Young Bird Plan Mascot International Design Competition' 19
2019-03-28 ~ 2019-06-17
Views / 37478
Participants / 127
Graphic design Product design
Competition introduction
Notification of Submission Deadline Extension
Good news! The submission deadline for Young Bird Plan MASCOT International Design Competition 2019 has been extended until June 17, 2019. Since its release, the competition has attracted the attention of numerous designers and design enthusiasts. The organizer has received a large number of participates' feedback on requesting for deadline extension. In view of the high divergence of this proposition, we have decided to extend the submission deadline from May 30, 2019 to June 17, 2019.
Turn your creatives into a big part of people's life instead of only showing them in your drawings. We are looking forward to your participation~
It is more out of imagination if the Kumanoto Prefecture without Kumamon, compared with a sushi restaurant without tunaand green mustard.
——《ラオスにいったい何があるというんですか》by Murakami Haruki
Young Bird Plan, an international competition platform, it has been five years since its establishment. This time, Young Bird Plan launches its own competition globally, and thousands of creative minds will have the unique opportunity to create the mascot image of Young Bird Plan.
Mascot's Mission:
He/She is a cultural brand medium, expressing directly and simply the brand spirit. With the mission of promoting brand concept and creating every opportunity for global designer, he/she will push the connection among design and other fields in order to inspiring deep thoughts on design value. Meanwhile, he/she will emotionally establish relationship between the brand and its audience and also lead the fashion trend. 
He/she will represent and speak for Young Bird Plan.
쿠마몬 없는 구마모토현을 상상하는 것은 아마도 참치와 와사비가 없는 초밥집을 상상하는 것보다 더 어려울 것이다.
——무라카미 하루키《라오스에 대체 뭐가 있는데요?》
Young Bird Plan 국제 디자인 공모전 설립5주년을 맞아 전 세계를 대상으로 브랜드 '마스코트'캐릭터 공모전을 개최하며 디자인 매니아들이 직접 마음속의 'Young Bird'캐릭터를 만들어주기 바랍니다.
마스코트의 사명:
마스코트는 브랜드 문화의 매개체이며 브랜드 스피릿을 심플하고 직접적으로 표현한다. 마스코트는 브랜드 이념을 홍보하고 플랫폼이 디자인 파워의 일어나기를 위해 모든 것을 창조할 수 있다는 것을 계승하는 역할을 담당하면서 디자인과 각 산업의 연결을 촉진하고 디자인의 가치를 끊임 없이 전파하고 계발하도록 한다. 아울러 마스코트는 대중과의 정서적인 연결 고리이자 한편으로는 마음속의 낙인이고 유행 트렌드이다. 
마스코트는 Young Bird Plan의 대변인이다.
Young Bird is not about YOUNG!
Actually, Young Bird does not means young designers. It is an expression of brand culture. Just imagine, a young bird may be an original city, an undeveloped field but with infinite potential, a new industry once ignored but now generates huge efficiency, a progressing technology under dispute and of course it may also be an ambitious young designer and even an unbuilt project but can inspire people a lot. So Young Bird means the future.
사실 Young Bird는 결코 특정 '새로운 군중'에 대한 통칭이 아니다. 마스코트는 브랜드 문화의 표현이다. Young Bird를 상상해보면 새로 탄생한 도시일 수도 있고, 아직 알려지지는 않았지만 무한한 잠재력을 가진 분야일 수도 있고, 과거에 사람들이 간과했지만 엄청난 효능을 가져다 주는 신산업일 수도 있으며, 현재 논쟁과 테스트를 반복하면서 전진하는 기술일 수도 있고, 또한 새로운 사물을 갈망하면서 적극적으로 탐험하는 젊은 청춘들일 수도 있고, 심지어 성공적이지는 않지만 우리에게 끝 없는 아이디어를 제공하는 케이스일 수도 있다. 한마디로 Young Bird는 미래이다!
Young Bird Plan is GROWING!
Over the past five years, Young Bird Plan launched 12 international design competitions cooperated with local governments, well-known developers and international brands. By the end of 2018, the platform attracts global participants from 879 universities and 3388 institutes in 217 cities of 54 countries.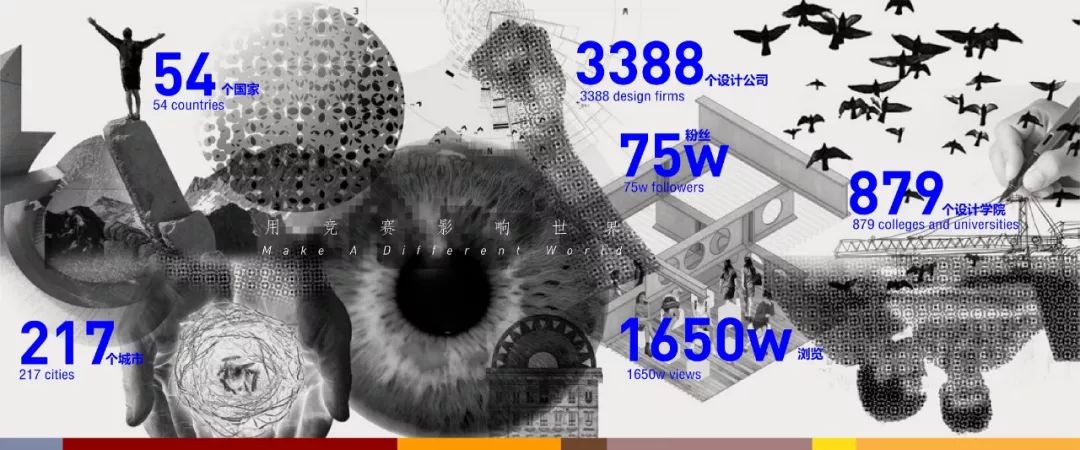 공모전이라는 플랫폼이 성장하는 5년 동안 정부, 유명 개발업자 및 세계적인 브랜드가 손 잡고 12회에 걸쳐 세계 무대를 바탕으로 국제 디자인 대회를 성공적으로 개최했다. 2018년 말 현재, 세계 54개 국, 217개 도시, 879개의 디자인분야 종합 대학교, 3388개 디자인 업체의 참가자를 성공적으로 끌어당기다.
▲Big data analysis of the platform by the end of 2018
What is Young Bird Plan mascot like? It will depend on you!
Young Bird Plan '마스코트'는 과연 어떤 이미지로 등장할까? 디자인을 사랑하는 여러분의 결정에 맡깁니다!
Young Bird Plan
Founded in 2013 by Isa Ye, Young Bird Plan, is an international competition platform for global design talents. With three key elements, viz. fabrication, mentor's guidance and interdisciplinary jury, it is fast becoming a leading voice in global design fields like urban design, architecturedesign, landscaping design, interior design, product design, logo design and fashion design. Since its inception, the platform has received submissions from 879 colleges and universities and 3,388 design institutes in 217 cities of 54 countries.
Young Bird Plan는 설립자인 예춘시(葉春曦) 여사가2013년에 창립한 전 세계의 아이디어와 디자인 인재를 대상으로 하는 고퀄리티의 공모전 플랫폼이다. 목표 설계, 대가 멘토링, 크로스오버 심사위원을3대DNA로 하여 신속하게 세계를 무대로 도시 설계, 건축 디자인, 경관 디자인, 실내 디자인, 제품 디자인, 로고 디자인, 패션 디자인 등 다양한 디자인 분야에서 주목을 받고 있다. 짧은5년 동안54개 국, 217개 도시, 879개 대학교, 3388개 디자인 기관의 참가자를 유치했다.
▲The popular mentor group is sparkling: Young Bird Plan's mentors  are working on the frontier of architecture field. They are respected and accredited with powerful influence in the society. In 2018, star-architects joined in mentor group, including Zhang Haiao – an emerging architect famous for the name "the Man behind Daniel Wu", Shuhei Aoyama – a popular male architect famous for Dragon TV's 'Dream Home', Zhuang Ziyu – a cool talented architect famous for his Hermès cat walk show.
▲ 빛나는 인기 멘토 그룹: Young Bird Plan의 멘토팀 멤버는 모두 건축 일선에서 활약하고 있으며 모두 막강한 사회 영향력으로 업계의 높은 평가를 받고 있는 인기 멘토이다. 2018년에는 '우옌주(吴彦祖) 배후의 남자'– 신세대 건축가 장하이오(张海翱), '몽상개조가'– 건축 남신 칭산저우핑(青山周平), '에르메스 T무대에 오르다' –비주얼과 재능을 겸비한 건축가 자앙즈위(庄子玉) 등 스타 멘토들이 합류했다.
On the one hand, the platform constantly connects and meets various demands from political, business, and academic circles and actively fill supply and demand gaps among designers, manufacturers, developers, urban operators and users. We are committed to design and innovation, and offering opportunities for creative minds around the world to participate in creation process, so as to propel the implementation of design projects and products focusing on urban spaces and life aesthetics. Besides, Young Bird Plan is devoted to pushing the urban development and offering high-quality solutions to product updates. On the other hand, as one of the most influential design competition platforms around the world, we make every effort to create opportunities for young designers.
정계, 재계, 학계의 다각도 수요를 지속적으로 연결하고 디자이너, 메이커, 개발업체, 도시운영업체, 사용자 간의 간극을 적극적으로 봉합하면서 세계 각지의 창의적인 인재들을 창조 과정에 참여시켜 이들에게 도시 공간과 생활 미학을 주목하는 대회 디자인 프로젝트와 제품의 완벽한 실현을 추진하는데 참여하도록 기회를 제공한다. 이로써 중국의 도시화 발전과 각 브랜드의 제품 세대 교체를 위해 고퀄리티의 솔루션을 제공하는 동시에 많은 기여를 하면서 젊은 디자인 역량의 발전을 위해 모든 것을 만들어주는데 주력하며 업계에서 대체불능의 영향력을 갖고 있다.
▲The interdisciplinary jury panel gathers: Jury comes from different design fields in the world, including Ma Yansong – the great architect famous for his work of Absolute Towers, Canada, Sou Fujimoto – the emerging Japanese architect, Benedetta Tagliabue – the jury member of the Pritzker Architecture Prize, Hasegawa Itsuko – the world-class landscape architect, Arne Quinze – the Belgian artist deemed as a national treasure, NadimKaram – the artist famous as the Father of Dubai Cloud, Grace Chen – the most influential Chinese bespoke fashion designer, Du Guoying – the founder of Xiao Guan Tea.
▲초학제 심사위원단, 대가들로 운집: 초학제 심사위원이 세계 곳곳에 분포되어 있고 디자인 산업의 다양한 분야를 아우르고 있다. 캐나다 '마릴린 먼로 빌딩'의 디자이너이자 유명 건축가인 마옌숭(马岩松), 일본 신예 건축 대가 후지모토 소우스케(藤本壮介), 프리츠커상 심사위원회 멤버 Benedetta Tagliabue, 세계적인 조경 대가Ituko Hasegawa, 두바이 아티스트Nadim Karam, 가장 영향력이 있는 중국계 고급 맞춤 패션 디자이너 천예화이(陈野槐), Xiao Guan Tea 브랜드 창시자 두궈잉(杜国楹)
▲Attracting excellent talents throughout the world: Prize winners are from different countries, most of them with background of studying in top design universities or working in top studios in the world.
▲글로벌 우수 인재 총 집합: 수상자들이 세계 곳곳에서 활약하고 있고 다수가 세계 최고의 유명 디자인 스쿨에서 공부한 경험이 있는 동시에 최정상 사무소에서의 근무 경력이 있음.
By now, we have cooperated with several governments, development agencies and international brands, e.g., Suichang County of Zhejiang Province, Yongchuan District of Chongqing City, Suzhou New District, China Merchants Shekou Industrial Zone, Vanke Group, China FortuneProperties, Westbund, Leliving, Sunbrella, Destelli, MATSU Group, Xiao GuanTea, Dongpeng Group, etc.
지금까지 여러 정부, 발전기구 및 국제 브랜드와 협력하고 있다. 예를 들면 절강성 수창현, 중경 영천구, 소주 고신구, Merchants Shekou Industrial Zone, 반케, China Fortune Properties, West bund, Leling, Sunbrella,DeCastelli, MATSU, 소관차,  DongPeng 등이 있다.
▲12 international competitions in past 5 years
▲플랫폼 설립5년 동안 세계적인 디자인 공모전 총12회를 성공적으로 개최
Young Bird Plan Visual System Review
Young Bird Plan의 비주얼 회고
▲Young Bird Plan Logo and its application Version 1 (2013-2016)
▲Young Bird Plan1세대 로고 및 비주얼 앱 (2013-2016)
Since its establishment, Young Bird Plan added its own features to its Logo: Young in blue means architect mentor working on the frontier of architecture field, Bird in pink means competition candidates with their dreams, Plan in golden means high-quality interdisciplinary jury panel, all of which enable people to understand three key points of Young Bird Plan more easily – Construction, Mentor's Guidance and Interdisciplinary Jury. Meanwhile, Young Bird Plan is a stage for talented young people lack of opportunities to show themselves. Thus, on the basis of key words including youth and vitality, etc., the simple silhouette of bird is adopted as image application.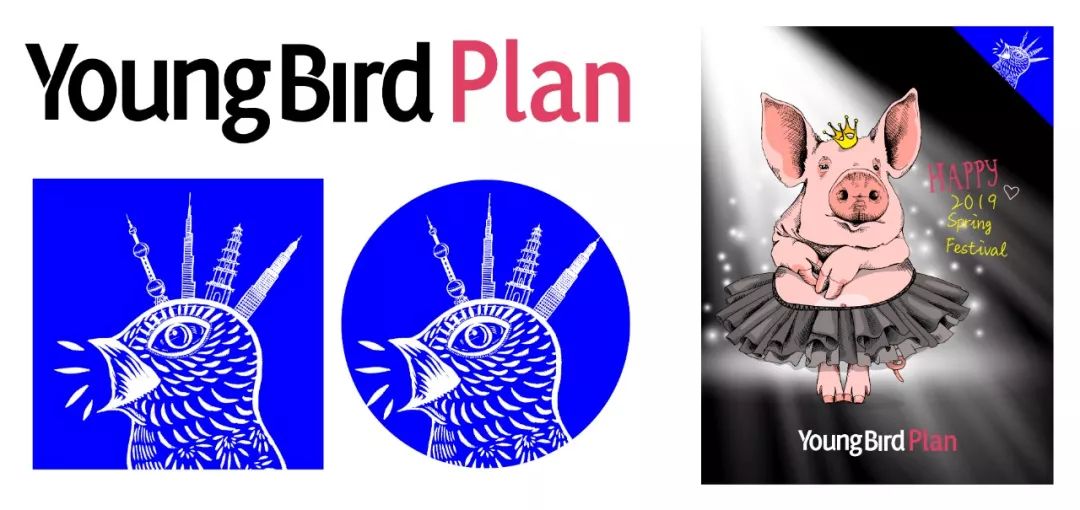 설립 초기 Young Bird Plan은 로고에 플랫폼 특색 가미: Young은 블루 컬러를 이용하여 건축 일선에서 활약하고 있는 멘토를 상징, Bird는 핑크 컬러를 활용하여 꿈이 가득한 대회 참여자를 상징, Plan은 골드 컬러로 최고 가치의 초학제 심사위원단을 상징, 이로써 플랫폼을 접속하는 사람들이 직관적으로 플랫폼이 함유하고 있는3대DNA인 목표 설계, 대가 멘토링과 초학제 심사위원을 이해하도록 했다. 아울러 플랫폼은 재능이 있지만 기회가 없는 젊은이들에게 본인을 어필할 수 있는 무대를 만들어주는데 주력했고 따라서 젊은, 활력 등 키워드에 대한 아이디어에는 심플한 작은 새의 실루엣 캐릭터를 프로필 사진으로 사용했다.
▲Young Bird Plan Logo and its application Version 2 (2017 – till now)
▲Young Bird Plan  2세대 로고 및 비주얼 앱 (2017년~현재)
With the rapid development and more powerful influence of Young Bird Plan in architecture field, its Logo is also updated dramatically – A fluffy bird, with sketch elements of various countries architecture on its head, opens its mouth and seems to voice something. It means that designers could promote and voice themselves via Young Bird Plan.
⚠️The above visual display is only for your reference to learn more about brand development background. You may design freely regardless of former logo images.
플랫폼이 점차 발전하고 건축 디자인 분야에서의 조예가 깊어지면서 로고의 방향도 업그레이드시켰다. 작은 새를 풍성한 날개로 '바꾸고', 머리 위에 각국 건축의 손 그림 요소를 추가하여 입을 벌려 소리를 내는 자세로 디자인했다. 이는 Young Bird Plan 플랫폼을 선택하는 이용자 모두가 플랫폼을 통해 자신을 어필하고 자신을 위해 소리를 낼 수 있도록 했다.
⚠️시각적 자료를 게재하는 이유는 브랜드 발전 배경을 이해하는데 도움을 주고자 함이며 이를 디자인 기반으로 생각할 필요는 없다. 여러분이 상상의 나래를 펼쳐 창의성을 마음껏 보여주기 바란다.
🐦 Based on the spirit of Young Bird Plan, 3D personage image design and graphic application creation shall be designed with bird elements. Character image is resilient and extensible without limitation of gender;
🐦 About mascot design, including:
a.    No limitation on creation categories and skills, including but not limit to graphic image, illustration, cartoon, 3Dmax, etc.
b.    The entrant shall complete 3D mascot archetypal image three-view drawing, including front, side, back.
c.     Captions are needed to match with work, including basic information of image name, gender, etc., design concept or design description, enclosed with story narration which is relatedto your experience of attending competition or story that happens in your work or study or design career, 100-300 words.
🐦 Graphic application creation includes:
a.    Apply mascot to a piece of traditional Chinese festival theme greeting card;
b.    Mascot image package design;
c.     Mascot image badge design;
🐦  The entrant shall offer the original drawing files in 300 dpi for print production.
🐦 Young Bird Plan 플랫폼의 함의를 토대로 조류와 관련되거나 혹은 조류 요소를 이용하여3D 마스코트를 디자인하고 마스코트 원형을 평면 응용으로 창작할 수 있으며 마스코트 캐릭터의 성별은 제한이 없고 가소성과 확장성을 갖고 있다.;
🐦 마스코트 디자인 관련 포함 내용:
a.   창작 유형 수법에는 제한이 없으며 도형 도안, 삽화, 만화, 3D max 등 유형이 포함되지만 이에 한하지 않음.
b.   참가자는3D 마스코트 원형의 three-view drawing을 그려야 한다. 정면, 측면, 뒷면이 포함된다.
c.   작품에 필요한 문자 설명이 있어야 한다. 포함 내용: 캐릭터 이름, 성병 등 기본 정보, 작품 창작 사고방향 혹은 디자인 설명 관련 간략한 서술. 그리고 귀하의 대회 참가 경력과 관련 스토리, 현재의 업무 혹은 공부 배경과 관련된 스토리, 또는 디자인 인생과 관련된 스토리 등100-300자의 스토리 설명을 첨부하십시오.
🐦 평면 응용 창작 관련 포함 내용:
a.   마스코트를 중국 전통 명절의 주제 카드에 사용;
b.   마스코트 캐릭터 포장 케이스를 디자인;
c.     마스코트 캐릭터 배지 응용을 디자인;
🐦  참가자는300dpi 해상도의 인쇄 작업에 사용 가능한 비트 맵 소스 파일 혹은 벡터 파일을 남겨야 한다.
🐣 Branding: integrate boldness and independence, with tolerance, openness, forward-looking and exploratory spirit;
🐣 Interesting: full of story, great fun, unique characteristic charm with exclusive image;
🐣 Transmission: work is easy for transmission and could strike a responsive chord in the hearts of potential users;
🐣 Feasible: design shall meet basic requests of industrial design, widely applicable, design shall be feasible and executed to some extent.
🏆 The initial selection is implemented by competition organization commission who will filter the candidates' works and make sure they conform to the conditions.
🏆 Top 30 comes out and ranks by the score after the professional jury give the scores according to the above four assessment criteria;
🏆Voted by 32-fields representatives, the most voted ten works are defined as Top 10;
🏆 Voted by the entrants of past competitions and mentor representatives, the most voted three works are defined as Top 3;
🏆 Crowd funding is adopted. When crowd funding is successful, it enters into patent manufacturing round. The work with the highest crowd funds is the champion of this competition.
(In order to protecting the entrants' rights of intellectual property, except the crowd funding round, the procedure of voting is implemented privately.)
🐣 브랜드성: 플랫폼 독립, 무모함을 충분히 융합. 포용성, 개방성, 전향성과 탐구 정신 구비;
🐣 재미/흥미: 스토리, 재미가 있고 전속 캐릭터의 유일무이한 성격 매력 갖춤;
🐣 전파성: 전파하기에 쉬워 잠재적 사용자 그룹의 플랫폼 정신에 대한 공감대 형성 가능;
🐣 실현성: 디자인은 산업 디자인의 기본 요구를 충족시키고 응용성이 강하고 디자인 자체가 운영 및 실현성이 있고 타당성이 높아야 함.
🏆 1차 선별은 Young Bird Plan 대회 조직위원회에서 조건에 부합하는 노미네이트된 작품을 선별.
🏆 전문 심사위원이 상기4개 심사 기준을 토대로 점수를 매겨 작품TOP 30 을 선별;
🏆32개 업계 대표가 투표하여 투표 랭킹10위에 오른 작품TOP 10을 노미네이트;
🏆 역대 참가자 및 멘토 대표들이 투표하여 최다 득표3개 작품이TOP 3에 노미네이트;
🏆 마지막으로 크라우드 펀딩 매커니즘을 도입하여 크라우드 펀딩 성공 후 특허 제조 과정에 진입하고 크라우드 펀딩 수량 최다 참가자가 이번 대회 우승자로 확정.
(참가자의 지적재산권을 보호하기 위해 크라우드 펀딩 매커니즘 외에 투표는 비공개 투표로 한다.)
(Please submit works strictly according the regulations above, works which don't comply with the regulations will be canceled the qualification of selection to the shortlist.)
A scheme shall be presented in 2 A2sheets in a clear, vertical way and in readable format (with a 10 mm pagemargin) and include following parts:
 -Simple descriptive text within 300 English words (excluding notes);
 -Registration No. shall be put in the upper right corner of the sheets, in Arial 20pt font;
 -A scheme shall contain front view drawing, side view drawing, back view drawing, details drawing, effect drawing,etc.
A maximum of two A2 sheets in JPG format (no larger than 20MB for each) can be submitted, applied to data packet's unified set of frame (vertical and horizontal versions respectively).
A scheme title shall be given and files shall be submitted in the "registrationNo. – scheme title – sheet No.1/No.2" format.
A scheme shall be in bilingual (for Chinese-speaking entrants) or English (for English-speaking entrants).
Do not disclose ANY PERSONAL INFORMATION including name, organization, school, etc.
All drawings and description text in English shall not be compressed due to possible missing data or invalid link.
Cover which should be the rendering of your scheme must be uploaded in the size of 1024*768 pixels, 72dpi, less than500 KB.
(상기 규정을 엄격히 지키며 작품을 제출하고 규정에 부적합한 작품은 노미네이트 자격을 취소한다.)
방안을 A2 세로 방향 도면2장에 완전히 나타내야 하고 도면은 선명하고 주석을 읽을 수 있어야 한다(페이지 여백10mm). 포함 내용:
 –간단한 설명 문자: 300자 미만(주석 제외);
 –지원 번호: 도면 오른쪽 상단. 번호 글자체: Arial, 글자 크기: 20;
 –도면은 정면 도면, 측면 도면, 뒷면 도면, 조감도, 세부 도면 등을 포함.
모든 도면 배열은A2 도면2장을 초과하지 않고 리소스 패키지를 활용하여 동일 틀 안(가로, 세로 버전 각1장)에 제공하고 제출 격식을 일괄적으로JPG이며 각 도면의 크기가20MB를 초과 하지 않는다..
대회 참가 방안은 자체적으로 명명: 작품 도면은 '지원 번호–방안 명칭-01/02'격식에 맞추어 파일을 명명.
작품 제출 언어: 중, 영 혹은 영어.
모든 도면과 문자 설명 중: 이름, 학교 등을 비롯한 개인정보 공개 금지.
모든 도면과 문자 설명 중: 영어 설명으로 제출 시, 압축 실패 혹은 링크 실패가 발생하지 않도록 압축 포장 금지.
작품 앞 표지 전송 필수, 앞 표지는 단독 작품 Render 사진, 크기 1024×768,72dpi,500KB 이내.
Deadline for entry: May 15,2019 at 23:59 (GMT+8)
The official site prevails when all contents are involved.
지원 마감 시간: 2019년5월15일23시59분(GMT+8)
모든 내용은 최종적으로 공식 사이트 기준임.
🐦This competition is open to professional designers and students of all ages with industry-specific background or design enthusiasts across the world;
🐦Each group (three members at most) shall submit only one entry;
🐦Each participant has to register on our website; for any question, please visit our website.
🐦모든 디자인, 예술 관련 학과 배경의 종사자, 학생, 매니아 모두 참 가능, 국적과 나이 제한 없음;
🐦팀별로 참가 시, 팀당 최대3인, 팀당1개 작품 제한;
🐦팀원 모두 공식 사이트에 등록 필수, 자주 묻는 질문은 공식 사이트의Q&A 참고 요망.
2019.03.28        Call for entries
2019.06.17        Submission deadline
2019.06.28         Releaseof shortlisted winners
2019.07.05       Release of Top 30 & Voting by Field Representative (privately)
2019.07.12        Release of Top 10 & Voting by Entrants of Past Competitions and Mentor Representative (privately)
2019.07.19       Release of Top 3 & Open to crowd funding
2019.08.19        Release of the Champion
The schedule is only for reference, the actual release prevails when the specific time is involved.
2019.03.28       지원 시작
2019.06.17       작품 제출 마감
2019.06.28       노미네이트 명단 발표
2019.07.05      Top 30 발표& 업계 대표 투표(비공개)
2019.07.12     Top 10 발표& 역대 참가자 및 멘토 대표 투표(비공개)
2019.07.19      Top 3 발표 & 크라우드 펀딩 시작
2019.08.19      우승자 발표
상기 일정표는 단지 참고용, 구체적인 시간은 실제 발표를 기준.
🐦Please register by logging into our website: www.youngbirdplan.com.cn.
🐦For the latest information about this competition, please follow our official WeChat account: youngbirdplan-cn or our official Weibo account: @YoungBirdPlan;
🐦You can directly contact the competition team by add YoungBirdPlan as one of your Wechat friends. We will remain at your service here for any further questions you may have.
🐦공식 사이트 www.youngbirdplan.com.cn등록 및 지원
🐦위쳇 공공계정: youngbirdplan-cn, 공식 웨이버: @YoungBirdPlan 를 통해 대회 관련 최신 정보 주목;
🐦문의가 있을 경우 개인 위쳇 계정: youngbirdplan 추가혹은 공식 사이트에 접속하여 상담 가능.
In accordance with applicable laws and regulations, by participating in this competition, each Entrant irrevocably agrees to abide by the below statements about the copyrights for all submissions. 
1. Statement of Originality
All submissions must be original, and each Entrant shall ensure that his/her entry does not infringe any third party's rights, including patents, copyrights,trademarks, and so on. Otherwise, the Entrant will be disqualified from the competition, and the organizer will withdraw all the sponsorship money and materials and reserve the right to investigate and affix legal liability of infringement. All damages and losses arising there from shall be borne by the Entrant; and all the direct and indirect damages (including but not limited to attorney fees,legal fees, costs of preservation, appraisal costs, notarial fees, and soon) suffered by the organizer shall be compensated by the Entrant.
2. Statement of Consent
By submitting an entry, each Entrant agrees to publicly display the works, and accepts the on-line selection process. And before uploading a submission, each Entrant must confirm that he/she has read and fully understands all of theclauses, and accepts them. The judging panel reserves the right to make a final decision on entry assessment and award list. 
중국정부의 유관 법률법규에 따라 이번 공모전에 주동적으로 참여한 모든 참가자가 제출한 작품의 저작권 귀속에 대해 아래와 같은 취소불능 성명을 했다고 간주한다. 
1. 창작 성명
참가 작품은 반드시 공모전 참가자의 창작 작품이어야 하고 그 어떠한 제3자 개인과 업체의 그 어떠한 특허권, 저작권, 상표권 및 기타 합법적인 지적재산권을 침해해서는 아니 된다. 창작 작품이 아닌 것으로 밝혀지면 주최측이 그의 참가, 노미네이트와 후원 자격을 즉시 취소할 권리가 있고 지원한 자금과 물질을 회수하고 법적 책임을 추궁할 권리가 있다. 주최측이 이로 인해 소송을 당하거나 혹은 기타 손실이 있을 경우 주최측은 동 참가자에게 전액 배상을 요구할 권리가 있으며 주최측이 먼저 배상을 했을 경우 참가자에게 직접 손실 및 간접 손실(변호사 비용, 소송 비용, 보전 비용, 감정 비용, 공증 비용 등이 포함되지만 이에 한하지 않음) 모두 구상할 권리가 있다.
2. 동의 성명
이번에는 온라인 심사 방식을 사용하고 참가자는 작품 전송 즉시 주최측에게 권한을 위임하여 공모전 개최 목적을 위해 모든 사람들에게 서명 혹은 익명의 형식으로 작품을 전시하는데 동의하고 공모전이 확정한 심사 방식에도 동의한다. 참가자는 작품 제출 전에 모든 조항을 세밀하게 읽고 충분히 이해하는 동시에 동의했으며 이번 공모전의 심사위원회가 모든 수상 작품의 심사 결과에 대한 최종 재량권을 갖는다. 
Awards
🐣 First Prize
1 winner; 30,000 RMB (pre-tax); patent manufactured product; Certificate of Honor.
🐣 Top 3
2 winners; 6,000 RMB each (pre-tax); patent manufactured product; Certificate of Honor.
🐣Top 10
7 winners; 1,000 RMB each (pre-tax);Certificate of Top 10 Honor; patent manufactured product.
🐣Top 30
20 winners; Certificate of Top 30 Honor.
🐣 Shortlist
Several winners; Certificate of Shortlist Honor.
🐣 Other entries: Entry Certificate
🐣 Top 10 will have the opportunity to be a contract-signed artist of Young Bird Gallery affiliated to YoungBird Brand.
🐣 우승 상금(1명)
위안화30,000위안(세전)+특허 제작 주변 상품+증서.
🐣 TOP 3 상금(2명)
위안화6,000위안(세전)+특허 제작 주변 상품+증서.
🐣TOP 7(7명)
위안화1,000위안(세전)+TOP 10 수상 증서.
🐣TOP 30(20명)
TOP 30 수상 증서.
🐣 노미네이트(수 명)
노미네이트 증성.
🐣 작품 제출했지만NO 노미네이트: 대회 참가 증서
🐣이번 대회TOP 10은Young Bird 브랜드업체 산하Young Bird Gallery의 전속 예술가로 계약 가능.
KOL introduction