『 Gallery is a collection of brand core, design stories and life aesthetics.』
Chentang is a magical land where Nezha conquered the Dragon King and the Chentangguan was guarded by Li Jing, King of Totali, in the folklore Romance of Enclosing the God.Besides, it has also witnessed the upgrading and development of industrial structure in the past 40 years since the reform and opening up.Chentang used to be a heavy industrial district, while becomes engineering design "torch base".
◤Daying Men Street in Hexi District in early 20th century
> The Way of Industrial Upgrading in Chentang Area
Chentang Village is located in the eastern part of Hexi District. And the economy of Hexi District leads first in Tianjin as there was a legend among the older generation that "Hedong District was poor while Hexi District was rich".As an important part of Hexi District, Chentang Village also provide a window on Tianjin for Chinese and foreign visitors from ancient times to present. The "Jinpu Factory" built in Chentang Village a hundred years ago is the first vehicle factory in Tianjin that can assemble locomotives. The first train carrying passengers also leaves from Chentang Village Station.
◤Platform ticket price list at that time
In the year of1953, the Chentang Village Industrial Zone formed a comprehensive service area with large and medium-sized enterprises as its main body and convenient storage and transportation. Thus a number of industrial enterprises of electronics and chemical industry gathered here.For more than half a century, a large number of enterprises have been awarded advanced collective titles at the national and municipal levels, and a number of labor models and advanced workers at all levels have emerged, all of whom created a number of national, ministerial and municipal brand-name products, which sell well both at home and abroad.
◤Old photos of those years
In the 1990s, industrial enterprises began to shift their industrial strategy eastward, restructure industry and upgrade products, which generated some enterprises moving out one after another.In 2003, Chentang urban industrial park began its version one planning, which was the start of industrial upgrading in Chentang Village.In 2008, with the unremitting efforts of the district committee and the district government, Chentang District was approved to beg in the land balance pilot project inTianjin, and Chentang Metropolitan Industrial Park was also renamed as Chentang Science and Technology Cultural Industrial Park.In 2009, we further deepened the spatial functions for business office and science and technology industrial development, and it was accordingly renamed as Chentang Science and Technology Business District.
◤The ChentangVillageThermal Power Plant, in service for 20 years, deliveredheating tothe city center. It was closed in March,2015 and blasted in June,2017, a perfect ending.
> Current Situation of Chentang Science and Technology Business District
In 2015, under the impetus of new historical opportunities, Tianjin was approved to build a national independent innovation demonstration zone and plan the spatial pattern of 21 gardens in one district. Thus, Chentang Science and Technology Business District became a Hexi Branch of Tianjin National Self Innovation Demonstration Zone. On the basis of the original region, the planned area coverage was expanded to 12.74 square kilometers, which is Chentang Self Innovation Demonstration District.
◤Four-to-Range Map of Self Innovation District
As the core area in Chentang, Chentang Science and Technology Business District is located in the center of Hexi District, which is 2 kilometers away from Tianjin Municipal Government and Tianjin Cultural Center, 11 kilometers away from Tianjin Airport and 8 kilometers away from Tianjin Railway Station. The total area of Chentang Self Innovation District is 12.74 square kilometers, with a construction area of 2.857 million square meters.At present, there are 42 state-level science and technology enterprises and 992 municipal enterprises in Chentang.Among them, 23 enterprises with a scale of over 100 million yuan and 44 high-tech enterprises cover all 17 industries.
◤Location Advantage Map of SelfInnovationDistrict
Chentang Science and Technology Business District with the function of land consolidation at the first level, replaced the old heavy industrial zone and was listed as a pilot project of land balance at the municipal level in 2008. The project covers an area of 2.78 square kilometers from north to Fuxing River, south to Pearl River, West to planned urban landscape belt and east to Weishan Road. After nearly 11 years of development and construction, Chentang Science and Technology Business District continuously adds new features to the development of Tianjin.
◤Service Center of Chentang Science and Technology Business District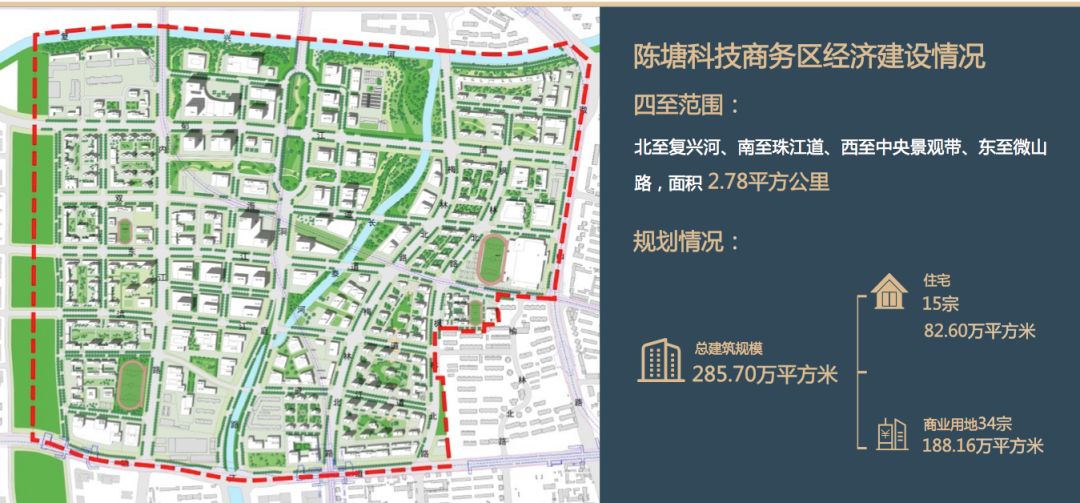 ◤Current Construction Situation of Chentang Science and Technology Business District
At the present stage, Chentang Self Innovation District has made great efforts to attract central enterprises, headquarters-based enterprises and their second and third-level subsidiaries to gather around.In order to introduce Beijing-Tianjin-Hebei regional headquarters of China Communication Construction and control its business in Beijing, Tianjin and Hebei, we shall add here to the working idea of "industry + real estate". Besides, we also introduced the second headquarters of China Architectural Design Research Institute Limited Branch, the R&D team of assembled interior and suitable old buildings, gradually undertake EPC related business of China Architectural Design Institute Limited, and build the core base of "residential design business".
◤Part of Current Chentang Science and Technology Business District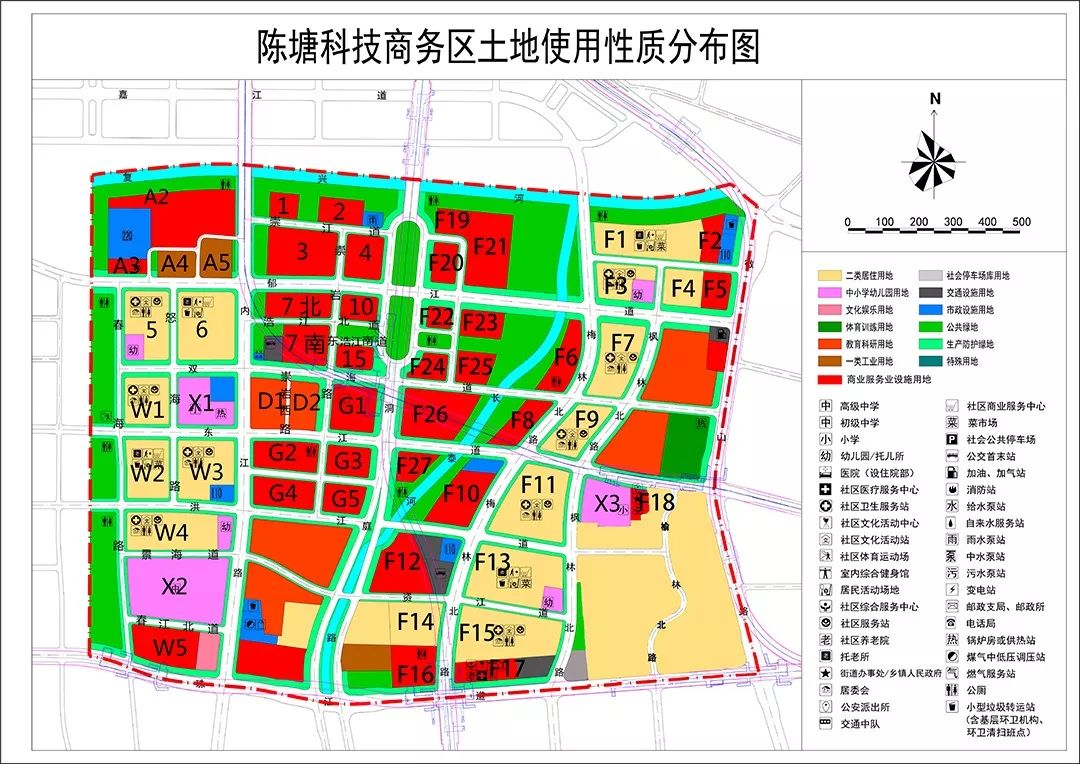 ◤Land Use Character Distribution Map of Chentang Science and Technology Business District
> Future Planning of Chentang Science and Technology Business District
Later, as the "engineering design torch base", Chentang Science and Technology Business District mainly covers five key areas including port design, architectural design, municipal design, water conservancy and Hydropower design, and general contracting of Engineering construction. It shoulders the responsibility of enhancing the over all development level of design industry in Hexi District and even Tianjin.From this point of view, the future of Chentang Science and Technology Business District will be upgraded in terms off our aspects like science and technology finance, design industry, environmental protection and culture industry, intelligent manufacturing, so as to enhance the importance of design industry among the national economy, and strive to make design industry a new bright spot to promote the economic development of Tianjin.
◤Future Planning Rendering
With the improvement of several industrial clusters, such as the core industry cluster of port design, creative culture design industry cluster, decoration design industry cluster, design derivative service industry cluster, comprehensive business service industry cluster, etc, North Design Union was established by13 leading enterprises in the field of design and Engineering in Hexi District in December 2016.Represented by the top design enterprises in China and even the world, such as China Jiaotong No. 1 Navigation Academy, Zhongshui North China Academy, Municipal North China Academy and Tianjin Construction Academy, North Design Union gathers 4 academicians and 26 national-level masters, and enjoys 191 experts subsidized by the State Council and more than 9000 deputy senior professional and technical personnel.Due to the establishment of North Design Union, design and science and technology become key points to continuously contribute to Tianjin's design industry.
◤North Design Union Headquarters – Architecture Design Competition 2019
Chentang is a land full of legendary color, where the older generation sweats and makes achievements. High-quality and top-notch talents are innovating in science and technology here and striving for glory with each passing day. In the future, more stories will be bred in this land. We look forward to your participation in the North Design Union Headquarters – Architecture Design Competition 2019.